We are sure you would have never thought in your life that you would have to read this article one day, but here we are. Getting a divorce can be one of the gut-wrenching experiences of your life. 
But if you and your spouse have fallen out of love and it is a mutual decision, then I guess it is okay. So, in that case, you need to learn how to get a divorce. 
In this article, we are going to tell you how you can file for a divorce from the start to the end. There are several things you need to know to learn how to get a divorce. 
Even though divorces can be emotionally draining, you need to focus and do the necessary things. So without wasting any further time, let us take a look at how you can get a divorce. 
How To Get A Divorce In 7 Steps
These are the steps in which you can get a divorce
1. File A Petition For Divorce
The first step of learning how to get a divorce is to file a petition for divorce. It is basically a legal request to the court that you want to end the marriage. Your divorce lawyer is going to guide you through the whole process of filing a petition for divorce. 
While filing for a divorce petition, you need to ensure you have provided all the details like the reason for divorce and a statement confirming a spouse's residency requirement. If you have no solid reason for divorce, then you can file for a no-fault divorce. 
Do note that this process is going to require a lot of money, including your divorce lawyer's fees, legal fees. How much you are going to have to pay further depends on several factors like the state you are living in, if you have a lot of property and whether or not there are any children involved.  
2. Opt For A Temporary Order
If you do not want to stay with your spouse from the moment you file the petition for a divorce petition, then you can ask for a temporary order. Temporary orders come in handy, especially when there are cases of domestic violence. 
However, do note that the court is going to have the final say on whether or not a temporary order is going to be implemented. If you fear that your children have the fear, then you can specially mention that to the court. In this case, the court will ensure that you both do not come in contact until the divorce is finalized. It is actually a moment of physical separation. 
3. Serve The Paperwork And Wait For The Response
This is probably the hardest part of learning how to get a divorce. You either hand a copy of the paperwork to your spouse, or you hand it over to your spouse's attorney. You have to ensure that the copy of the paperwork has reached your spouse. 
For that, you have the proof of service with you that would state that you have successfully delivered the copy of the paperwork to your spouse. If you do not have the proof, then the judge will not proceed with your case. 
There is a limited time within which your spouse needs to respond to it. It's important to know that if your spouse does not respond to it within a period of time, then a default judgment can be passed, which would be good for neither of you.  
4. Having Clear Conversation About Settlements
It's important to have a clear and straightforward conversation about settlements. I would suggest you seek outside of court settlement. It is better not to take it to court as it costs more and slows down the divorce process. 
When you go through a divorce process, you also go through an emotional divorce. It is a very important factor to learn how to get a divorce.  
5. Check The Financial Affidavit
You need to complete a financial affidavit within 45 days of serving the paperwork. It is extremely important in learning how to get a divorce. 
I would also suggest you back them up with your paychecks, bank statements, financial statements, debit card statements. Duly take note of this if you want to learn how to get a divorce.   
6. Be Calm And Steady During The Trial Process
Now, this is a time where you need to hold your nerves and stay calm. If nothing works out, including the outside-of-court settlement, then, unfortunately, both you and your spouse will have to battle it out in the court. 
Keep in mind that you should leave it as the last resort as it is going to cost both parties a lot of money. When it comes to this stage, it all depends on the judge. The judge will have the final say on all the matters. Remember that it is a time for spiritual un-bonding.  
7. The Judgement
It is the last step of learning how to get a divorce. This is the part where your marriage gets dissolved by a judge. All your assets are set for legal dissolution. And the custody of the child goes to one parent. The judge will also decide how much money is going to be shared. 
If the child is under 18 years old, then the father will have to pay for child support till the child reaches the age of 18. The judge is finally going to sign the divorce papers, and you will get the divorce!  
Final Thoughts
There you go, those were the seven steps in which you can file for a divorce. I hope this article has provided you some insights on how to get a divorce. I hope you have found this article to be informative. 
If you have any further questions or comments for us, drop them down in the comment section down below.
Read Also: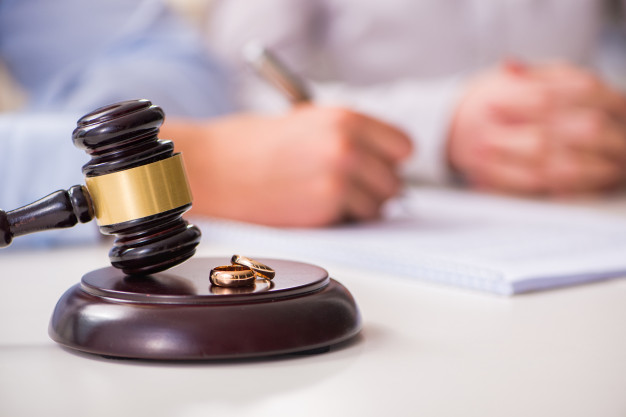 Are you confused about the marriage laws? If yes, you must seek a marriage lawyer's assistance who can assist you in every step of your marriage cases. He knows all the factors of the marriage laws that can bother you. A professional marriage lawyer can assist you in every step of your marriage.    
There are several crucial aspects of marriage that you must know from your end. The more you can think positively, the better you can cope up with the situations. You need to understand that the lawyer's requirement is essential if you want to save your marriage.    
In Which Matters Your Marriage Lawyer Can Help You 
There are several ways your marriage lawyer can help you to develop your case in the right direction. Therefore, let's find some of the crucial facts that can help you get the required assistance regarding these facts. 
You will get help from them in getting the Visa or changing your name in your passport. 

They will also help you to get a work permit if your spouse lives abroad.   

In case you face property disputes, they can help you to assist in that. 

They can help you get the joint loan orf with their assistance; you can open your joint account in your name. 

Your nominee will get the required account details, pension, and life insurance if your other nominee passes away without making you a nominee. 

If your marriage fails to work, your marriage lawyer will help you assist you. They can help you to get the divorce on time.    
Different Ways Marriage Lawyer Can Help You   
There are multiple ways your marriage lawyer can help you to get the proper assistance of marital laws before and after your marriage. Therefore, let's explore the facts to get a better understanding of them.    
1. Jurisdiction For Registration 
The marriage registration certificate is a legal document that can save you at the time of disputes after your marriage. You must correctly understand that if you need to prove that you are married and do not have the marriage certificate with you, you can be in deep trouble. Today the salary of the marriage lawyer is quite high. 
From such a scenario, your marriage lawyer can save you. They can guide you in legal ways on how you can handle this situation from your end. They are the experts in handling such situations in the past to help you get rid of these situations.    
2. Documents Required For The Registration Process 
Your lawyer can assist you in a step-by-step manner with all the required documents in the registration process. They know the ways and documents required to present it to the court in case of any legal disputes. The entire registration process is crucial for your business. It can make or can break your business. 
Ensure that you have made the right choices from your end regarding selecting the marriage lawyer who can assist you in every step of your disputes. The process of registration is crucial and cumbersome at times. 
3. Marital Tax Deduction 
There are several unlimited forms of tax deductions you will receive after your marriage. You need to understand these facts while you will seek the assistance of a marriage lawyer. He knows the ways to help you to get the tax deductions on time.     
Marriage laws can become complicated at times. You need to showcase your daily expenses and maintain the expenses file to highlight that your expenses have increased after your marriage. You will get the required deductions of the country's marriage law's taxes in such a scenario. 
4. Preparing The Affidavit 
The couple must submit an attested affidavit because it will signify the couple's marital and mental status. Your marriage lawyer can help you in preparing it. This affidavit's primary purpose is to show that the marriage is not performed forcefully, and the couples are of legal age.   
All these factors will help you to get legal assistance at the time of any disputes from your end. Your lawyer can help you to get rid of any legal complications regarding your marriage that you will face after your marriage.     
5. Nominations In Property    
After your marriage, your spouse automatically becomes the nominee of your property, but you need to prove that fact in court in case of the legal disputes and challenges you need. You need to consider several factors to develop your nomination with the help of your marriage lawyer. Ensure that if you have the proper selection of the lawyer from your end.   
After marriage, the property nomination papers play a vital role in saving your assets to get challenged by someone else who is not the property's rightful owner. You can lawyer can handle these issues on your behalf to not face any kind of difficulty in the future. 
Which Factors Must You Consider While Hiring A Marriage Lawyer?    
There are several factors you must consider while hiring a marriage lawyer in your case. Otherwise, you will not get the required assistance on time that you deserve from their end. 
His experience in the above field for handling these types of cases. 

Consider the previous success rate of the lawyer to get the best assistance of it. 

Ensure that you have made the right choices from your end while you have selected the best lawyers from your end.    

The lawyer must be responsive to your requirements when you need them the most. 

You must also consider the marriage lawyer's salary before hiring them. 
Conclusion  
Hence, if you plan to get the assistance of the marriage lawyer for your happy married life, you must consider the mentioned facts above. The more you can think proactively in this regard, the better you can seek the assistance of the best lawyer of the state. Ensure that you have made the correct choices from your end to seek the best lawyer's assistance.     
A proper background check of the lawyer is a crucial part of selecting the lawyer from your end. You must not consider these facts lightly from your end to help you in your future life. The positive thought process is vital in this regard.
Read Also:
Giving birth to a child is one of the best feelings a person can ever have. But unfortunately, nature does not allow many people like us to have children of our own. 
But that should not stop you from enjoying the godly experience of watching a child grow in front of your eyes. In that case, you need to learn how to adopt a child. 
Some people cannot have children because of biological reasons, where some people want to adopt a child because they feel they need to do more in this world. 
Since you are reading this article, chances are you too are looking to adopt a child. Whatever be your reason, you have got to read this article to the end so that you can successfully learn how to adopt a child.   
So without any further delay, let us get started in learning how to adopt a child.
How To Adopt A Child In [5 Easy Steps]
After reading this article, you will have complete knowledge about the steps in which you can adopt a child. 
1. Conduct Your Prior Research
Adopting a child is a major life decision; it is not something that can be done in an instant. So keeping that in mind, you need to do some prior research work. In this tech-driven world, we all have an Internet connection in our homes. 
So use it to network with other adoptive parents, join support groups on the Internet, watch blogs of adoptive parents sharing their experiences. There are a few questions you need to have the answers to if you want to want to learn how to adopt a child: 
Are you comfortable with adopting a child of different ethnicity, 

Do you want to adopt a newborn child or a slightly older child,

And the most important question is whether you want to adopt internationally or domestically.     
2. Choose The Agency You Want To Work With
After clearing out the above question and research work, it is time to get in touch with an adoption agency. Mothers who are pregnant and want to give their child up for adoption visit these adoption agencies. 
These adoption agencies make sure that they take both the clients, the ones that want to give their child up for adoption and the ones that want to adopt a child. There are two sorts of agencies: private agencies and public agencies. Both the agencies have their own perks. 
So again, I would suggest you do loads of research work. Also, make sure you are okay with the agency's fee structure. Before choosing an agency, talk to the people of many agencies and only then take a final decision.   
3. Fill In The Application And Complete The Home Evaluation Procedure
After selecting an agency of your choice, there will be a time when they will invite you to their place to talk about the orientation session. The members of the agency will hand out application forms to you; you need to fill them in and hand them over to the people of the agency. 
The agency will take its own time and review your application form. This time can take up to a week. If you are selected by the agency, they will contact you and inform you that you have been selected as their client. You may have to pay a nominal registration fee as a part of the process. 
You take the part of 'Home Evaluation' very seriously as members of the agencies will visit your home and evaluate the condition of your home. They will check if the home is a good environment for a child to be raised. They will take into account both the physical environment and the emotional environment. They are going to take your interview as well.   
4. Sit Back, Relax And Wait
This is probably a frustrating step, but a step nonetheless. After the members of the agencies have taken your interview, you will have to wait. This waiting period depends on a lot of factors like family structure, the state's laws. 
There is a specific time for international adoptions, that is two years, but things get a little tricky in cases of domestic adoption. In order to adopt domestically, you need to be approved by the birth mother; this can take months and even years. 
Knowing how to wait is an important step to learn how to adopt a child.  
5. Make Sure You Fulfill All The Legal Procedures And Hiring An Attorney
As a law-abiding citizen, it is your duty to fulfill all the legal procedures. Now you may require an attorney. Hiring an adoption attorney is a necessity while adopting a child. This is the part where you need to be the most careful. Never hire an attorney who is a rookie, the adoption attorney that you are hiring must only specialize in adoption and should have years of experience. 
Another very important thing you need to keep in mind while hiring an adoption attorney is the place of residence. Adopting a child is a long process. You might have to go to his residence several times a month or even a week, so it is advisable to hire someone who lives close by. 
While selecting an adoption attorney, do not think about the fees and charges of the lawyer; just focus on the quality of service he provides.   
Final Thoughts
There you go now; you know the five steps in which you can adopt a child. Once you are positive that a new toddler is soon going to join your house, it is very important to ensure that your home environment is child-friendly.   
I hope you have found this article to be informative and finally learned how to adopt a child. If you have some questions, comments, or feedback for us, kindly leave them in the comment section down below. We will try our best to reply to each and every comment.
Read Also: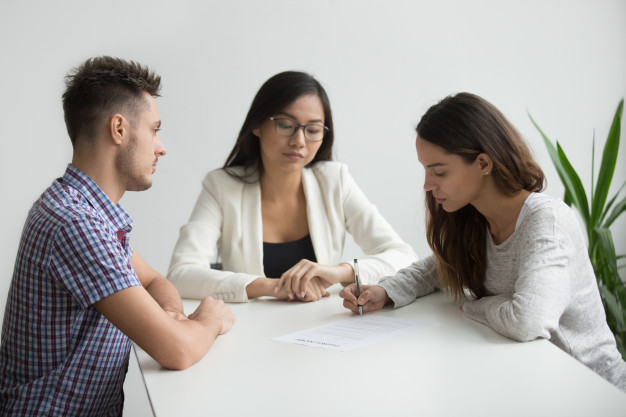 Divorce is the legal process of breaking your marriage from your spouses. The state government governs divorce law. The whole matter is put forward in front of the judge, and after reviewing all the evidence, the judge decides whether the marriage will be dissolved or not.
Divorce law consists of several procedures that even take up years. Te proceeding might include the following matters:
Spousal Support.

Child Support.

Distribution Of Property.

Division of debts.
Divorce law varies from state to state; however, the basic law structures are being designed by the federal government.
What Is A Divorce?
Divorce is one of the most common practices to break any marriage. However, to break any marriage, the spouses have to show relevant proof to back their reason. The following reasons are some of the examples:
Adultery.

Unreasonable Behaviour.

Separated For A Long Period.
You don't always have to show any fault to file a divorce. There is a term in the divorce law, No-Fault Divorce, that allows the spouse to divorce without any faulty grounds. This usually happens when there is a difference in personalities that cannot be coped with.
The Different Kinds Of Divorce
There are various methods in which you can ask the judge to dissolve the marriage. For the sake of convenience, each method has been categorized into different types.
1. Summary Divorced
A summary divorce law consists of a lot less paperwork compared to other forms of divorces. Usually, a summary divorce happens between newlywed couples who hardly own any properties together, neither have any children nor joint debts.
2. Uncontested Divorce
If you want to file a type of divorce that has less court proceeding and less stress, going with the uncontested divorce is the best option to go for.
These kinds of divorce happen when both the spouses are in mutual understanding, accepting the differences they hold, and know that there is no point in moving forward with the marriage. Everything is settled without the interference of the court.
3. Default Divorce
A default divorce happens when you have filed for a divorce, and your partner has not responded to you. According to the divorce law, if the partner does not respond to the divorce notice, the case will go to court.
However, if the partner is nowhere to be found and cares less about the court proceeding, the case will be closed with a default divorce.
4. Contested Divorce
If you and your partner are at each other's neck regarding the terms and conditions of the marriage divorce, the judge will issue a final decision on the matter according to the divorce law. 
Contested divorce cases are stressful, time-consuming, and expensive. In fact, these cases run for years before coming to mutual solutions.
5. Fault & No-Fault Divorce
This refers to grounds one on which you are basing your divorce. Your state law will allow the permissible grounds on which you can file divorce against your spouse. The cases where the spouses are found guilty falls under faulty divorces.
On the other hand, there are other cases in which spouses can file a divorce case under non-fault divorce law. Here you have to show that the two partners are different in many ways and will not remain happy continuing with the marriage.
6. Mediated Divorce
Mediating divorce is a process where the spouses sit together and talk about the future and how their marriage will go. Before filing a divorce, a mediated divorce is the best way to resolve any problems.
However, you need to understand that it is not the mediator's job to make decisions for your sake; rather, they will offer your guidance and help you communicate with your partner.
What Happens in A Divorce?
Although Divorce is quite common in America, the divorce process will vary depending on the state divorce law and the couple's current situation. Short-term marriages are pretty easy to handle as these types of marriages hardly involve any variable to deal with.
However, long-term marriages are pretty complicated. These marriages involve important variables like share debt, child custody, and property distribution, making the divorce process complicated.
Here what happens in a divorce.
Step 1: Filing Divorce Petition
Whether spouses agree with the divorce or not, one spouse must file a petition asking the court to terminate the marriage before getting with the whole divorce proceeding. The filing spouse must provide the following information with the petition.
Step 2: Asking For Temporary Orders
Asking for temporary orders is essential when you have a child to take care of. The divorce proceedings can take months and sometimes a year, and if you have a child to take care of, waiting that long is impossible. So the court asks the spouses to ask the court for temporary orders for child custody, child support, and spousal support.
Step 3: Serve Your Spouse & Wait For Response
After you have filed a petition in the court, you need to provide a copy of the same document to your spouse and file a proof of service to the court. Proof of service is a document that records the information where you state that you have met the necessary requirement of giving a copy of the petition to your spouse. Now you need to wait for your spouse's response.
Step 4: Negotiate A Settlement
Divorce law cases are complex when other variables are involved in, for instance, child custody, shared debts, and property division. In cases like these, both the spouses are brought in front of the court to come to an agreement.
Step 5: Divorce Trial
Sometimes negotiation fails despite the best effort from both sides. If that happens, the last resort is to take them into court for trial. A divorce trial is a costly and time-consuming process. In addition to that, it takes all the powers from the hand of spouses and places them into the hands of judges.
Conclusion
Divorce laws are complicated, and this complication becomes more complex due to the spouses' disagreement on the case. Here we have tried to list down every possible thing that you need to make regarding divorce law.
If you are going through a divorce, it is better that you take professional help and try to explore every option for the best result.
Read Also: